Update your hand batch station with reliable consistency
The StateMix Flex Cell Hand Batch Station offers flexibility and automation to your production line. This machine is designed for processing a variety of hot cast or room temperature prepolymer, curative, polyurethane, epoxy, plasticizers, and dyes.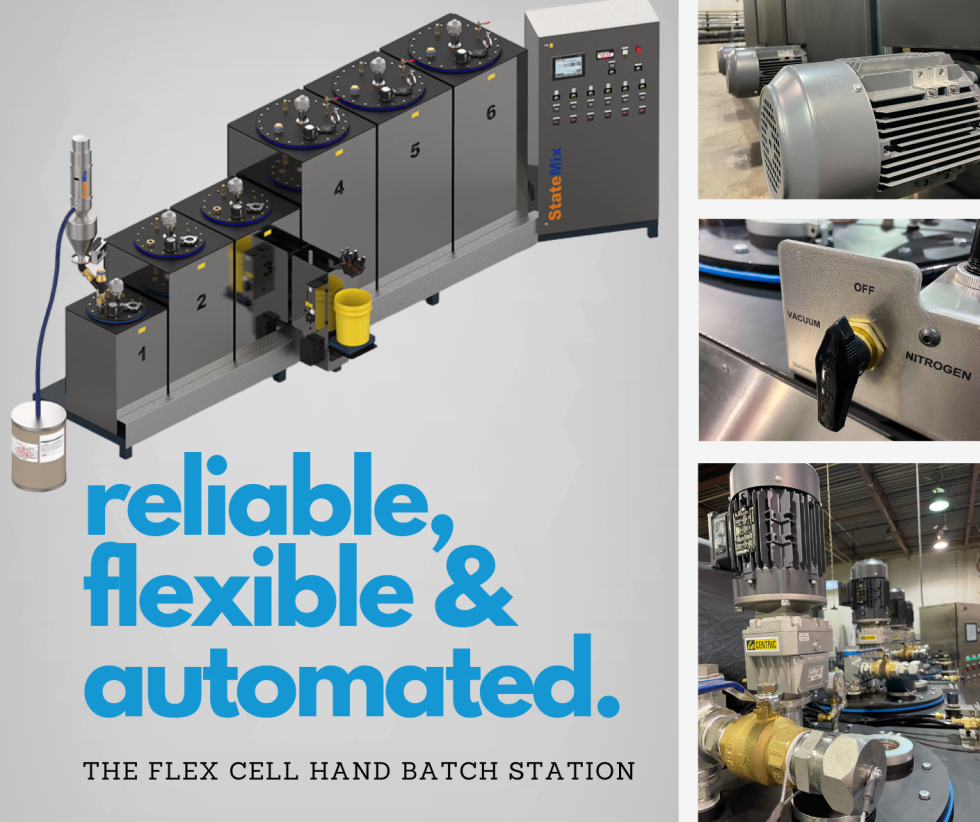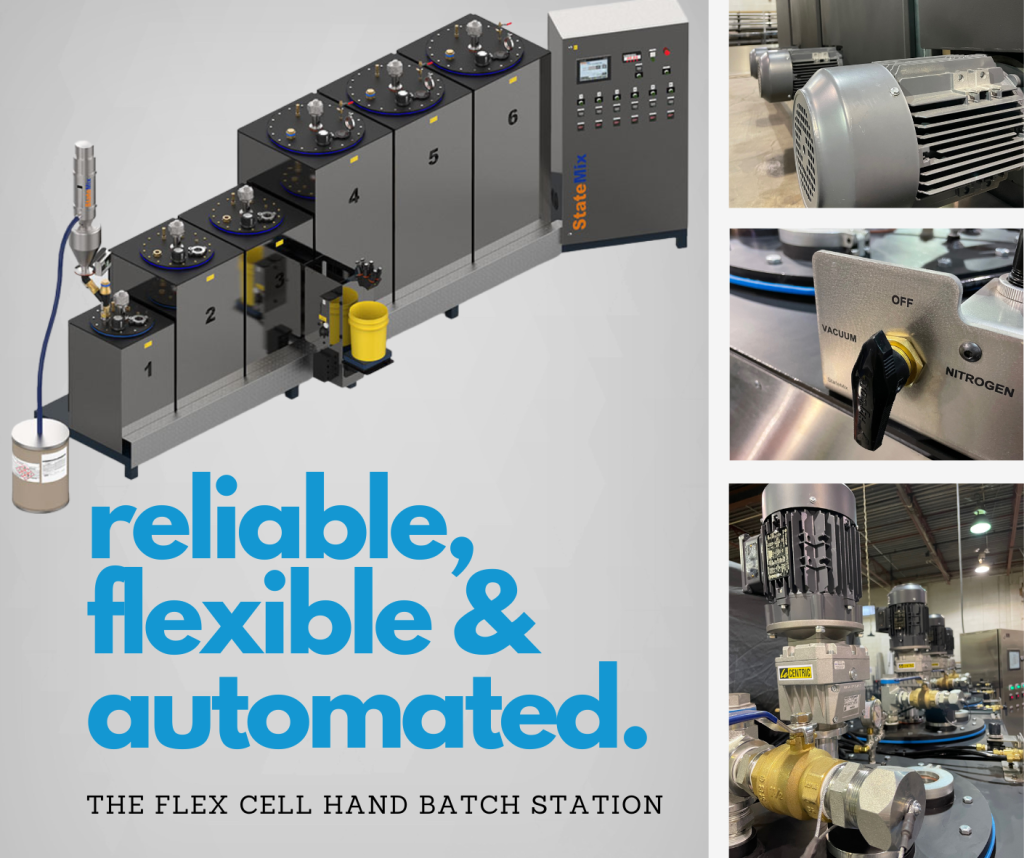 The compact and economical workstation design offers ease of operation in the workflow. The built-in health and safety features, with parts such as the Moca transfer system, support a safe and sustainable workplace for all operators. Update your hand batch station from manual processes to automation so you can experience reliable and consistent output.
Automate your production processes with accuracy
The Flex Cell key function is to degas, heat, meter, dispense, and support temperature control for your raw materials. Improving output quality by automating exact ratios for your recipes. The operator's interface will allow recipes to communicate with the injector assembly to pinpoint accuracy within 1-2%. Supplying efficiency within the software structure to increase operators' utilization. Maximizing your hours per unit (HPU) reduction.
Meter and measure success
A key feature of this product we proudly present to clients is to incorporate added upgrades like metering with data logging. The statistical process control (SPC) capability will check the behaviors of the equipment so your company can continuously improve efficiency. The mechanical elements allow up to 6 dyes, and up to 6 curative/polymer combinations dispensing from the injector block.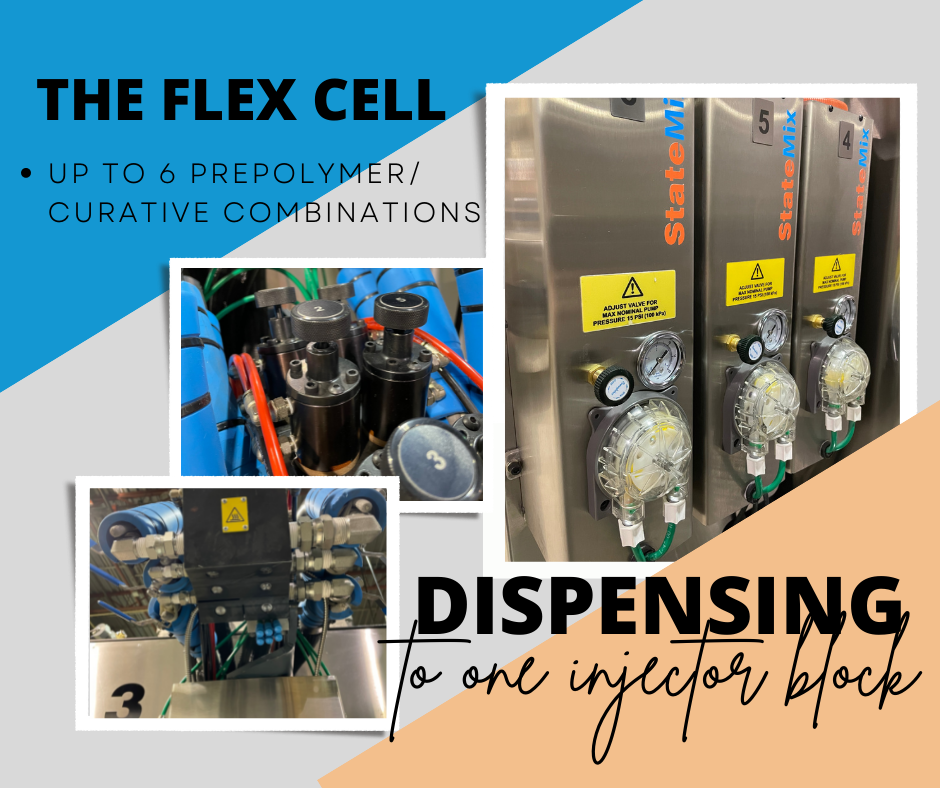 As soon as the calculated amount of curative is dispensed into the pail, operator will retrieve the pail from the scale, manually mix the material, and pour it into the molds. Each pour can vary from 0.5lbs to 50lbs (0.2kg to 23kg), making the machine useful for both small and large hand pours. 
Benefits of using this equipment: 
Calculated amount of material ratios reoccurs for dispensing 

 

reduce waste material with weighed accuracy

 

Materials are dispensed at perfect operating temperature 

 

HMI (Human Machine Interface) navigation and digital scale measure and confirm accuracy of dispensing ratio with weight of materials

 

Benefits for the Polyurethane Industries
The hot cast polyurethane industries would benefit from the Flex Cell by keeping raw materials at regulated temperatures, making it straightforward for operators and ready for production processes. The flex cell design allows up to 6 streams with various tank sizes and temperature options, offering a variety of choices to make your machine unique to your specific production processes.  For material with a high viscosity, pump assist is a factor incorporated into the design of your equipment, while independent injectors eliminate cross contamination of materials.  
Do you need a wide range of dye in your manufacturing products? 
We thought of that too by offering up to 6 dyes to dispense a consistent ratio in your metering. Creating that perfect colour which is supported by the software structure that is programmed to the exact parameter of your recipe. Allowing the Flex Cell to dispense polymers, dyes, and polyurethane while reducing reject material waste mixtures.  
Choose us for you
The Flex Cell Hand Batch station has been designed for over 20 years with upgrades from technology and customizations tailored to customers' requests. The first steps in your product journey will shape our understanding of your production processes, which will guide our collaboration with you. Our team will ensure the bells, whistles, and practicality of this equipment will turn into the best return on investment to improve your business.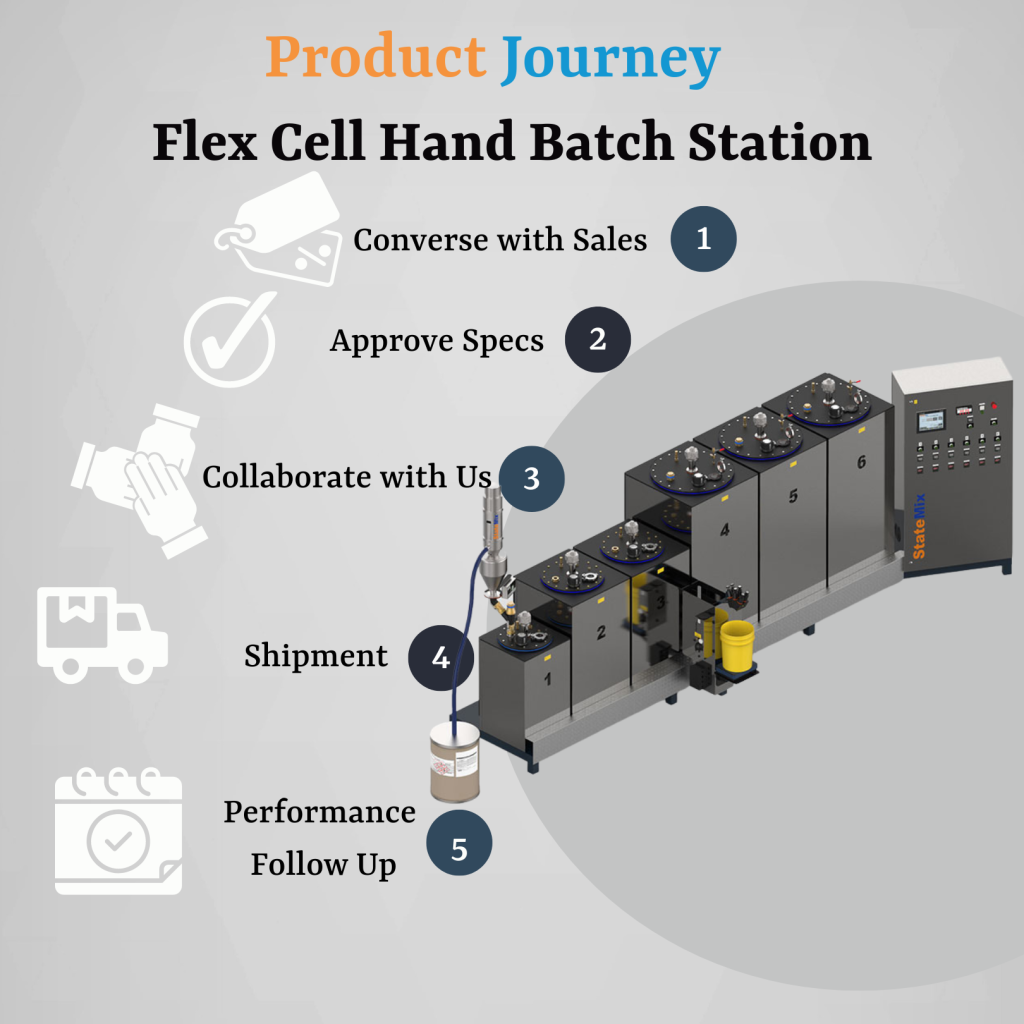 Conclusion
StateMix has experience in the history of this product. Many polyurethane companies have been impressed with the diverse add-ons and overall benefits that improved the efficiency of their production line. We take pride in the journey from affordability to efficiency from our products and your experience with us. Many repeat customers come back for further improvements in their processes with the addition of Vortex Mixers for their mixing stage, giving us the honor to be included in the next step to their production process.  
Purchase a Flex Cell from us today and StateMix can guarantee the dependability of your equipment with a 12-month limited warranty. Feel free to reach out to us for client follow-up when you have placed your new equipment on your production line so we can ensure high quality for your manufactured parts.