FLEX CELL
HAND BATCH STATIONS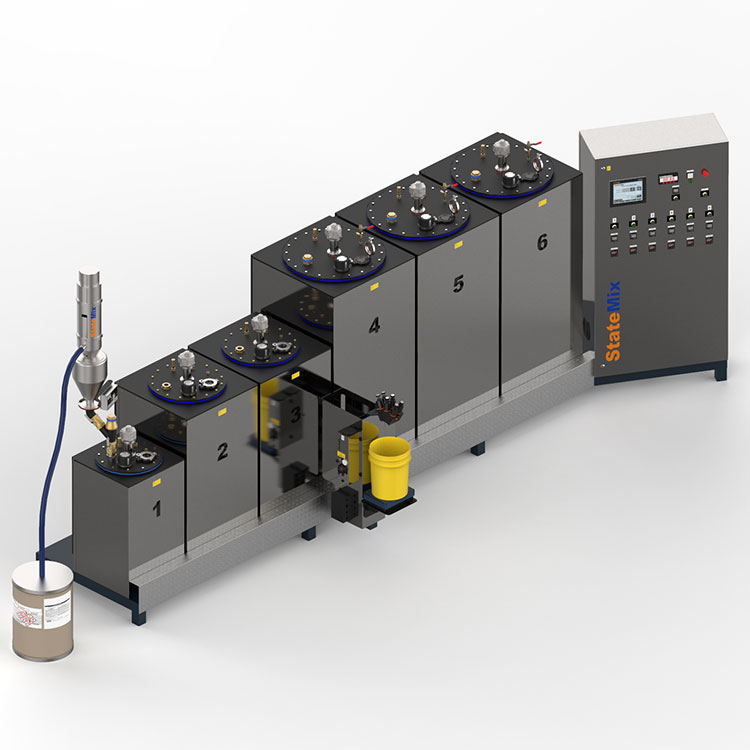 Flex Cell Hand Batch Stations:
The StateMix automated hand-pour dispenser is designed for processing a variety of hot cast or room temperature polyurethane or epoxy materials in a compact and economical workstation.
To dispense the material, the operator simply places the container on the digital scale located under the valves and enters the total pour amount and the required ratio of the second component. The computer will calculate the amounts of prepolymer and curative, then turn on the prepolymer valve and begin reading the changing value of the scale (each material is moved from the tank by applying 5-10 PSI of nitrogen in each tank).
When the required amount of prepolymer is transferred to the pail, the prepolymer valve is closed and the curative valve is opened immediately. As soon as the calculated amount of curative is dispensed into the pail, the operator will retrieve the pale from the scale, manually mix the material, and pour it into the molds. Each pour can vary from 0.5lbs to 50lbs (0.2kg to 23kg), making the machine useful for both small and large hand pours. The accuracy of the machine is 2% of the total weight and 0.2 points of the set ratio.
Due to the simplified design and low number of moving parts, the Flex Cell Hand Batch Station is extremely easy to maintain and operate.
Basic Components
Each workstation may contain from 2 to 12 individual tanks, allocated for a variety of prepolymers, curatives, plasticizers, dyes, or other additives.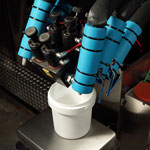 Injector Assembly
Designed and manufactured specifically for this application, each valve is connected to a tank and is controlled by the main computer.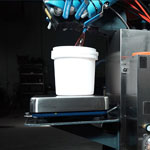 Digital Scale
Is located under the injector assembly and is connected to the HMI. It sends real-time weight information to the main computer via a digital communication port as the material is being filled into the pail.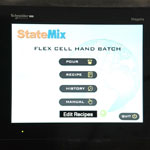 HMI Controller
This computer acts as the operator interface and is connected to all the valves and the digital scale. It can maintain multiple menus and store pour information for future quality control printouts. It will also indicate which material is stored in each tank and how much material was used in a week or a month.
Independent Dye Streams
Up to 6 independent dye streams can easily be incorporated into our Flex Cell Machine and the dye compounds can be added to each individual recipe.
Considerations…
You should consider a StateMix Flex Cell Hand Batch Station if:
You have a number of formulations in small quantities to be mixed on a daily basis, making it unfeasible to run them in continuous dispensing machines.
You need to automate your conventional hand pour area and improve your accuracy and quality control.
You need to improve the efficiency, safety, and cleanliness of your hand pour area.
Each material tank has the following characteristics:
Electrically heated, insulated, and controlled by a PID temperature controller
Air-driven agitator
Capable of holding vacuum for batch degassing and nitrogen blanket
Sight glasses and industrial lights on the lid of the tank
Tank sizes vary from 1 gallon (4 liters) (for dye tanks) to 110 gallons (440 liters) (for material tanks)
All tanks are sealed and can be used as storage tanks, if all the material is not used in a short period of time.
You will reduce your hand pour station costs
Both the prepolymer and the curative are degassed and dispensed at their ideal operating temperatures, directly from their own tanks, and there is no need to heat any raw materials prior to or after dispensing. Low cost paper containers or reusable plastic pails can be used when weighing the material, reducing your operating costs.
The dispenser provides you with the exact amount of mixed material that you ask for — not more or less, causing waste or underpouring of your parts, respectively.
Your material is always kept under a blanket of nitrogen after being degassed in the tank, making this machine ideal for moisture-sensitive materials such as MDI systems.
Frequently Asked Questions
What air pressure should be used on my flex cell ?
Air leaking from air solenoid at the back of the machine.
injector seal has flipped, remove black airline one at a time from solenoid, when you find air coming out of the hose… that is the injector leaking. Replace seals in that injector and test again.
How do I adjust my flow?
The flow is adjusting a: by raising or lowering air pressure on specific tank and b: adjusting the specific injector knob for the desired stream.
Tank not holding pressure.
Fill tank with nitrogen to 10 psi and do a soap test on fittings and agitator bolts at gasket.  If you find a leak then remove, reseal, and tighten.
No material coming out.
Check air to the machine. a: Make sure injector knob is open. Remove injector bolts and remove injector to verify injector port in not plugged.  b:  Verify Heat trace to ensure is heating the hose.  c:  Check your tank temperatures and verify material is melted.
Material is not melted at shift start.
Verify timer to make sure it came on early enough for material to melt.  Verify temperatures were set correctly and if not heat up material to desired temperature.  If those fail, then verify that fuses are not blown.
What nitrogen pressure should be on each tank?
This is dependent on the individual viscosity of each material and desired flow rate, Pressure can be anywhere between 1-15 PSI.  NOTE:  Pressure can not exceed 15 PSI due to pressure safety valve on each tank.
How many recipes can I store on my flex cell?
You can store over 250 recipes on your flex cell machine.
How many compounds can I enter in each recipe?
You can have a maximum of 3 Components plus a color in each recipe, or 4 components and no colors.
Your satisfaction is our highest priority.
If you have any questions or require additional information, please contact us.