StateMix urethane dispensers are capable of metering and mixing various polymers with impressive accuracy. Each Fully Automated Dispenser is designed and manufactured to meet your business needs and requirements. These complex machines undergo an extensive product journey to ensure we develop reliable equipment that is dependable for your industrial setting.
Tailored to your business needs with design and customizations
Is your company  currently trying to problem solve a production line issue? Our Fully Automated Dispensers could be the answer you're looking for. During the first stages of initial contact our team will ask questions to better understand your business needs. Helpful information like your company's current processes, systems, and operations will allow us insight to tailor our equipment to better serve you. You are the expert in your industry, but we are the experts on how our machines can improve your workers safety, operations, and time management. We value our business-to-business networks because building that trust and understanding is vital to gaining a lasting relationship.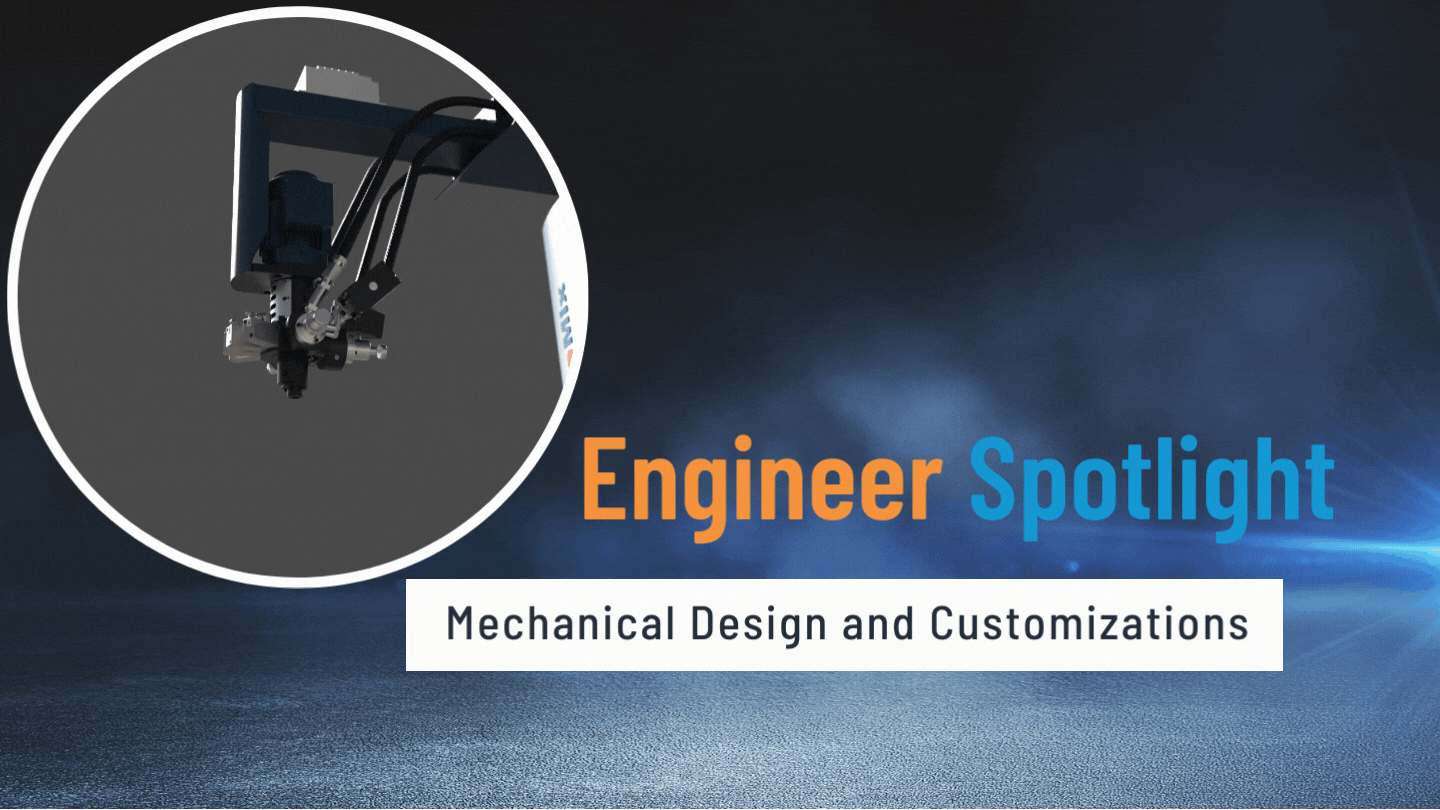 With every detail these fully automated dispensers are designed with an articulate and extensive process. The mechanic stages begin with drawings to testing and the final stage of delivery. The following are some highlights our mechanical team has endured with the production history of this product:
What are some mechanical customizations, requested by customers, that StateMix had to overcome?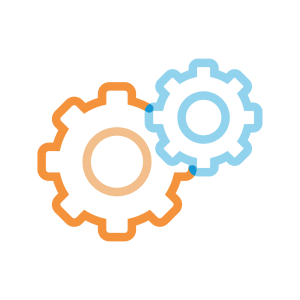 Where the material dispenses there is a component call the mixing head, in previous customization challenges, we've had to include additional streams. Although the routing to the mixing head was originally designed for less we were able to redesign and test for efficiencies.
Another example is designing a rotating boom to accommodate the needs of the client's production line. This request was to create a more efficient workflow in order to improve their production line with the restrictions inside the building.
Our team of engineers, technicians, and designers, working together with our clients to design a solution for requests like these. With extensive testing, strategizing, and working as a team we were able to overcome these design challenges.
 What are some extreme or exciting ways StateMix tailored their equipment to meet customer needs/requests?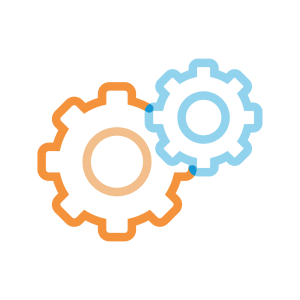 An extreme tailor was designing a large dispenser that travels along a rail system to service additional machines located on both sides of the Dispenser. This large dispenser (that is now moving) had to manage both power and hose operations using a festoon system.
An exciting design in our production history incorporated robotics. Designing a robotic system that moves a polyurethane mold under a fixed nozzle head was exciting to be involved in. For this build, material is dispensed accurately and precisely into the individual mold cavities.
Was there ever an instance StateMix had to adapt strategies to problem solve testing issues?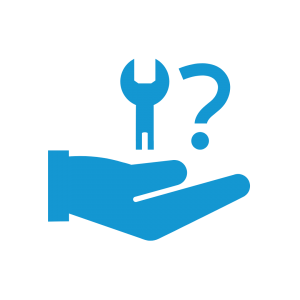 Yes, when performing material testing, we adapt the testing procedures to meet the clients desired results.
Internally we often use root cause analysis in our procedures and welcome learning, so progression is always improving.
By working together, with our client's, we can troubleshoot and modify the testing process as the testing is being done. Advising when needed so we can ensure our next steps accommodate their vision for the machine and how it will fit into their production line.
 What is a key mechanical detail that will help progress the collaborative process on both sides?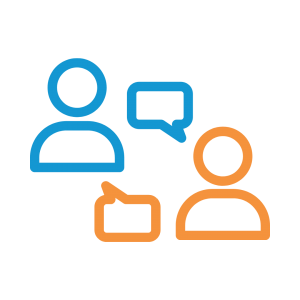 The relationships that we have with our client's is very important and helps in the collaborative process, by building trust and openness. The first point of contact is typically with our sales department and that initial contact is key in setting the tone that StateMix is a company that they want to work with. Good relationships build trust.
The customer collaboration within sales is distilled into a build sheet that gains a customer review and approval. Gathering all deliverables, expectations, vision, data, etc help combine all details to drive design and production.
Our mechanical engineers are involved with the processes of product design, analyze the details, and model the 2D idea into a 3D rendering. These steps are to better serve you and allow further collaboration to ensure your production challenges and ease of operation improve.
Key mechanical components on the Fully Automated Dispenser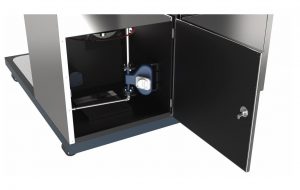 The heart of the innovative design is the interaction of the Coriolis mass flow sensor and precision metering pumps with digital motor drives. By using different pump sizes total flow rates of 50g to 40kg per minute are achieved. Flow rates as low as 10gs per minute can be measured accurately and repeatedly. Up to 6 streams including cleaner flush and dyes can be introduced to the dynamic mixing head simultaneously.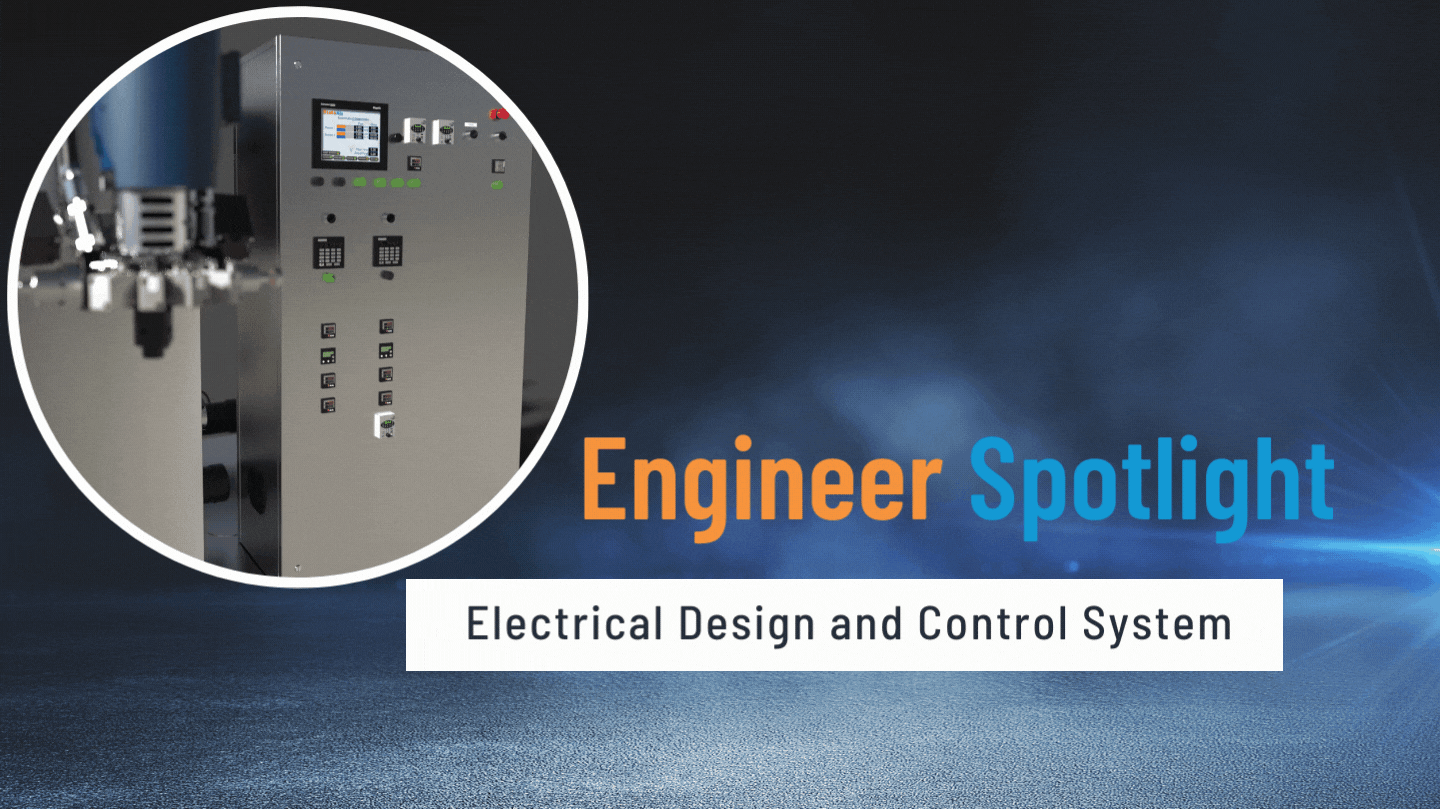 In comparison to the detailed approach our mechanical engineers undergo, our electrical team prioritizes the ease of operations. The Fully Automated Dispenser has a control system that allows easy navigation within the HMI. The control panel encourages unique personalization's that tailor to the processes your company may practice and value today.  These are some highlights our team has with the history of the electrical components to this product:
What are some electrical customizations requested by customers that have challenged StateMix?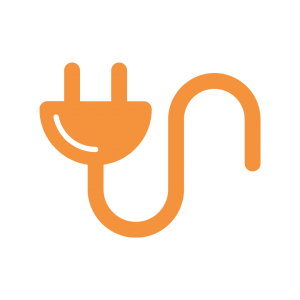 Updating older systems with our newer technology can be a challenge as technology is rapidly changing.
Our design team is adept at performing these types of upgrades, but depending on the age of a particular machine, it's not always possible. Our electrical team never gives up easily. Many tests, troubleshooting, brainstorming, and internal collaboration for suggestions on next steps would occur before the final conclusion is communicated with the customer.
What are some of the customizations StateMix has done previously that the electrical team enjoyed developing?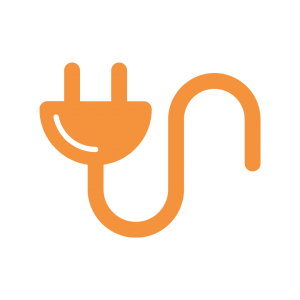 Our current team members haven't had the pleasure to be directly involved with development of these systems, but robotics and advanced automation processes are always interesting to be a part of. It challenges us to learn and collaborate that much more with the mechanical team to develop fluid motions and communications.
Coding beyond the legacy code base allows freedoms and creativity, our design team enjoys customizations that can be developed in this way. The magic of 0's and 1's! Since technology is always evolving programming today, starting fresh, allows for more opportunity for software then the technology of yesterday.
What information given by the customer helps the StateMix electrical team to determine how to tailor our equipment to benefit their company?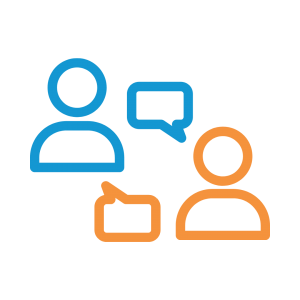 It is imperative that we get as much information from the client as possible.
Knowing their process, both their current process and where they want to be after adding additional equipment.
This vital information will allow us to better understand their needs and requirements. It allows us the opportunity to offer suggestion, like machine options and additional equipment they will need. This information will directly determine the software structure, and wiring systematics.
Understanding your company workflow allows us to put into perspective the ways our equipment will become a return on investment for your business.
How was the StateMix team able to use the software and control panel to ease the functionality of this product?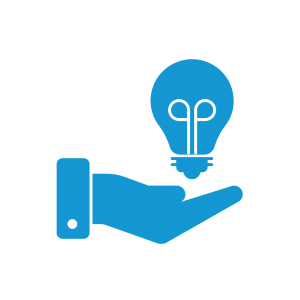 Our software and control panel system allows our clients an easy to operate system that provides them with controls that are easy to navigate.
It allows fast dispensing and accurate measurements. The software will display quality control information to be saved for review and evaluation.
Our control panel functions allows features such as a "shot system" operated by one push of a button through automation.
More specifically, the technology we design will allow more tasks per cycle without sacrificing performance.
At the same time, StateMix can display a lot of data visually so the customer can see at-a-glance the status of their system. Overall the software structure, programming, and hardware all combine to make it easy to operate based on the practices and systems you intend to use for maximum efficiency.
Key electrical components on the Fully Automated Dispenser
The control panel serves as a main computer function, programmed to communicate with the mechanics and functionality of the Fully Automated Dispenser. The key functions in the HMI (Human Machine Interface) software displays options such as preset menus, system data, totalizer data, and shot system profiles. This touch screen sets the drive parameter for processing materials with pre-polymer and curatives. The hardware on the control panel incorporates digital number displays, buttons, and advanced options such as bar code readers. Our Fully Automated Dispenser can be programmed by our team, data logged for your own systems, data inputted by your machinists, and retain hundreds of recipes to control the ratios of how your company dispenses products with consistency.
Overview of Key components on the Fully Automated Dispenser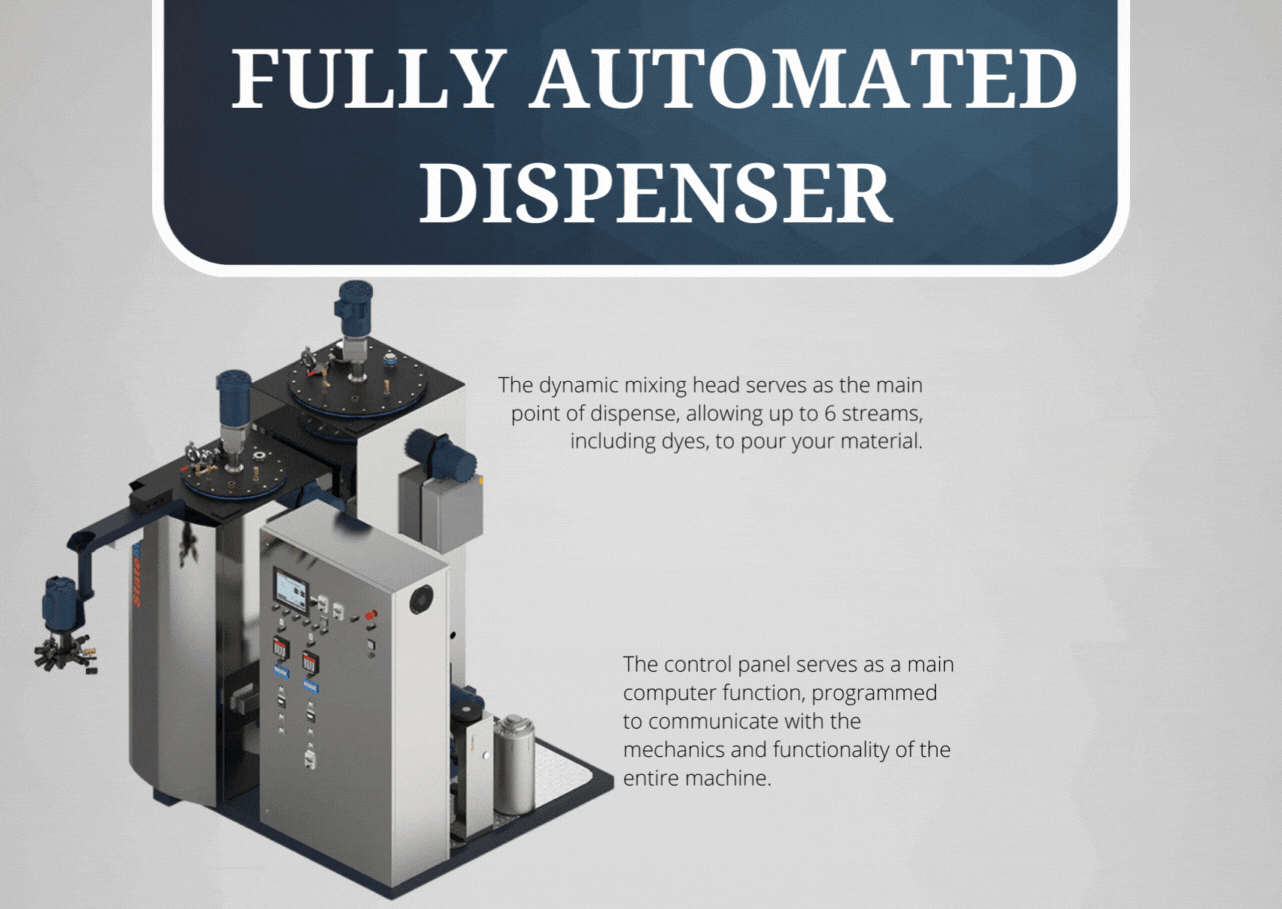 Fully Automated Dispenser Product Journey
Step 1: Converse with our sales team
Questions we will ask to ensure this product is the right fit for you. Many of your answers will directly relate to flow rate as we plan to customize our equipment with your business needs in mind:
What types of molds does your company use? (Small, medium, large)
What is the viscosity of the material that you wish to be dispensed?
What is the pot life of your material?
How much material do you dispense in a shift?
These questions are examples of what is on the dispenser data sheet. Your answers will help our team with the build, design, and production of your equipment. Retaining this information will determine adequate parts for the machine including pumps, flow rate, heating, etc. By submitting this data sheet with an accurate quote, while easily communicating to the StateMix team the needs of your business.
Step 2: Approve mechanical designs and rendering
This step is critical to the building and production of your customized equipment. Ideas and details are turned into drawings and 3D modeling to aid you in visualizing what we plan to build for you. Our team is always eager for this step because it confirms that we understand your business needs. The mechanical designs you approve will guide the next steps for the building process on our production floor.
Step 3: Collaborate with our Sales Representative and Production Manager on updates and testing.
During this process we often communicate with your team on the production phase, the testing of your machine and its compatibility with your material. How your material flows through the machine is the main focus of this step. During this phase your equipment will have many hands, eyes, and attention on it. Communication from valuable team members will provide updates to you.
Step 4: Equipment gets shipped to you with our service technician to aid with training and preventative maintenance.
Our shipping details will be efficient, honest, and always attempts to deliver on our promise. Our team understand this product is a ROI and we want to ensure every single detail has been checked, rechecked, and even triple checked. When it arrives at your door, we have already arranged travelling for a service technician to provide setup and training. This product is included in the commissioned machines. A manual, technician, and a shiny new toy will be excitement your team shares along with us!
Step 5: Production line efficiency follow-up. How is your equipment performing?
StateMix understands that every second a manufacturing production line is down the company is losing money. Therefore, we have processes to ensure there is a follow up after you've received your Fully Automated Dispenser. Additionally, we offer technical support for any complications that may happen with the equipment you receive; this is crucial to ensure your company can depend on your new equipment and rely on our team to stand behind what you've received.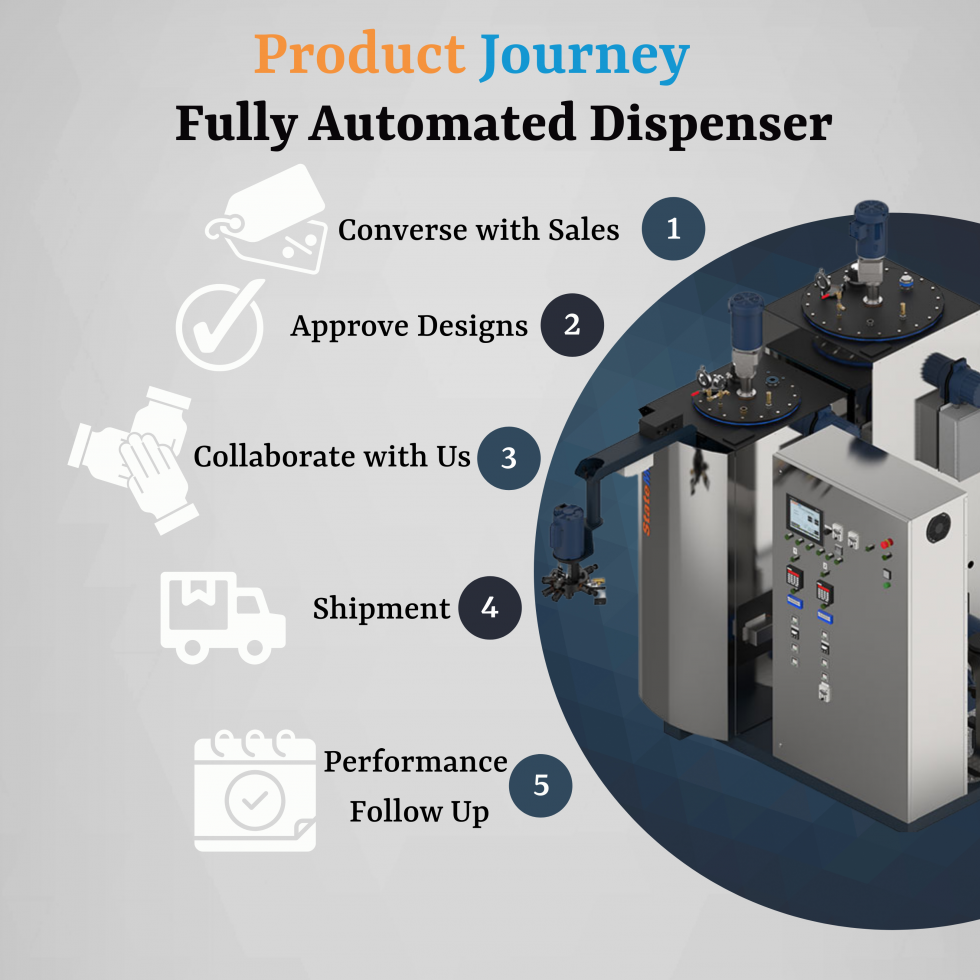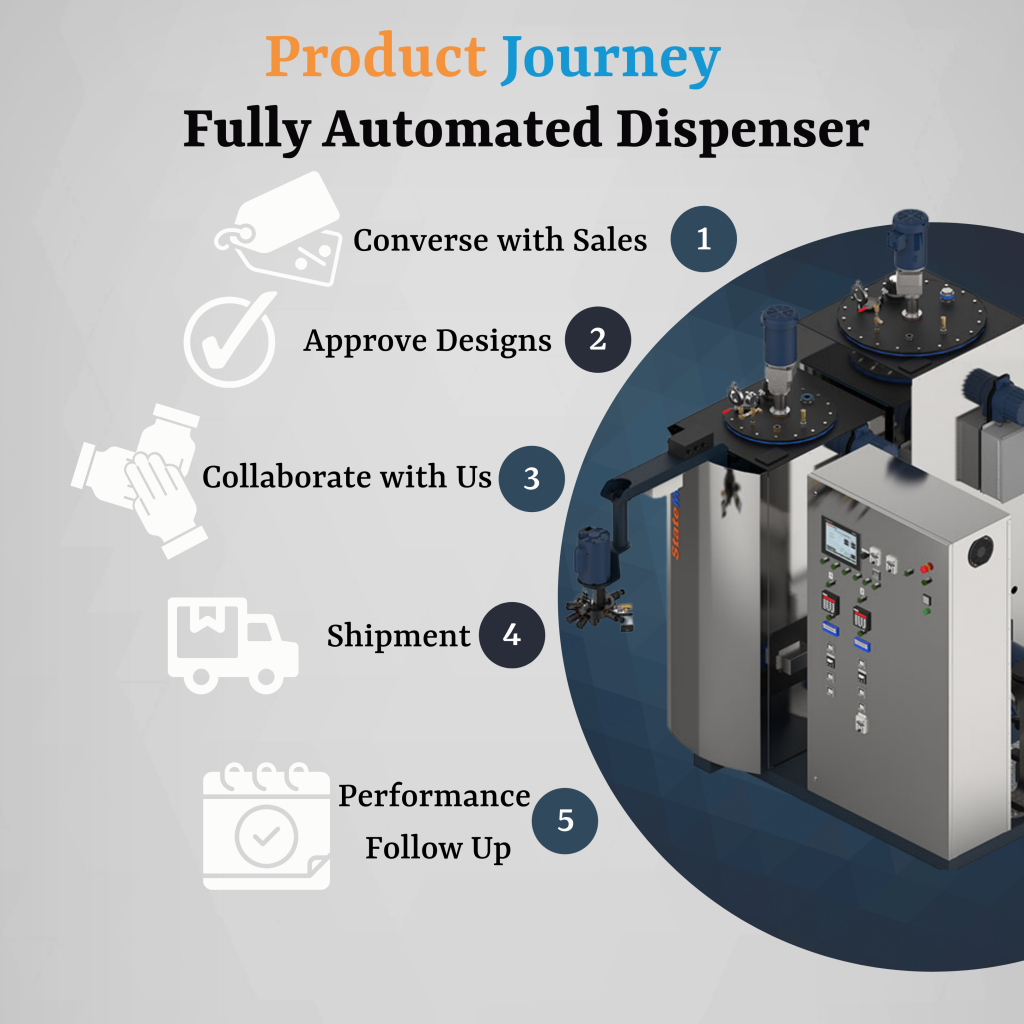 Conclusion
The Fully Automated Dispenser is highly customizable StateMix machine that will be designed to meet your manufacturing needs. The more information that you provide and trust our team with the more we can shape our equipment to aid your production floor. Our team will collaborate, design, and test the equipment. The extensive product journey will ensure the collaboration process, design approval, mechanical and electrical components are meticulously built. The relationship with us doesn't stop just at the purchasing of our machines, we are proud to offer technical support, preventative maintenance training, and a technician who arrives with this equipment, so our professional relationship with you thrives for years to come.